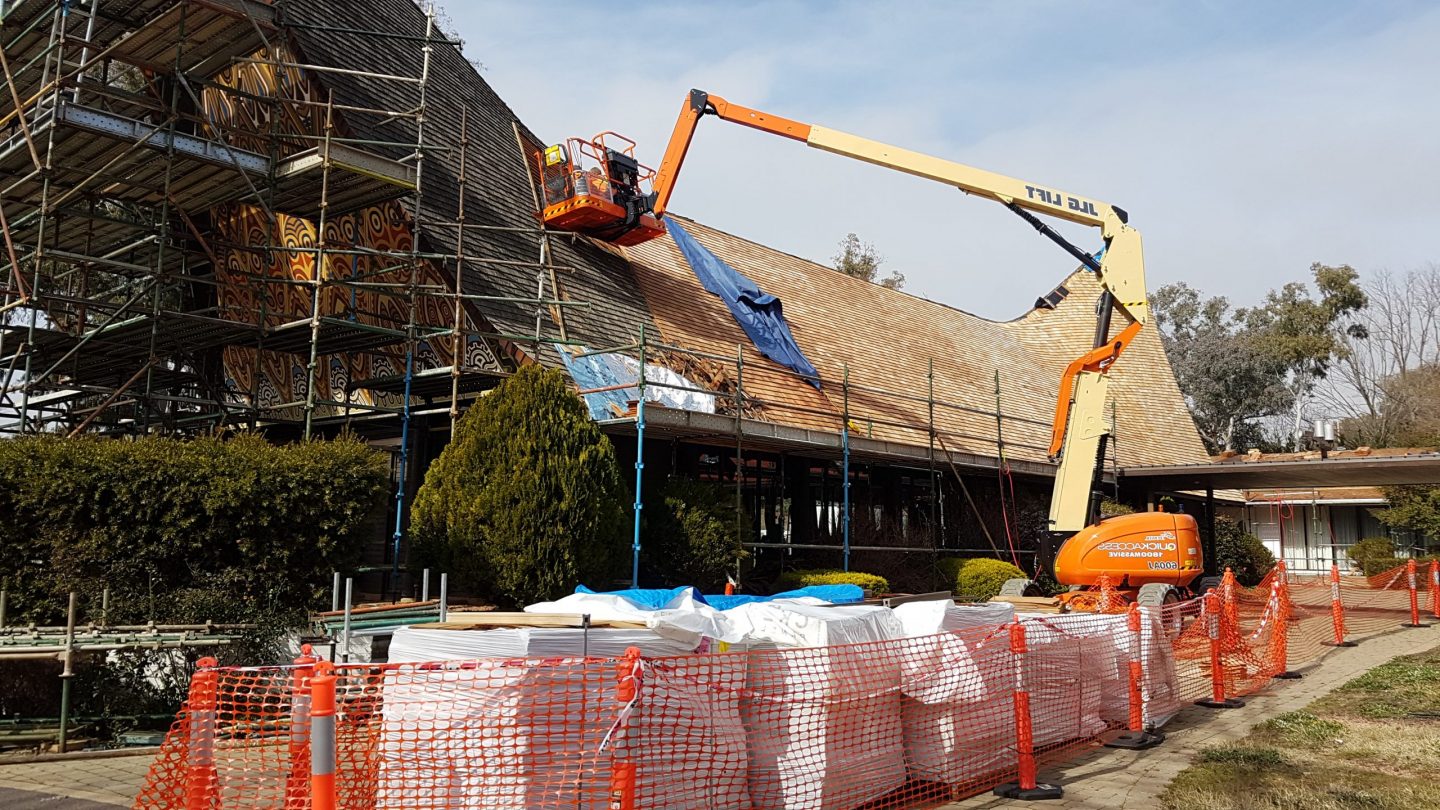 The iconic Haus Kamasan (previously known as Haus Tambaran) and the PNGHC Chancery office blocks are undergoing repairs due to a severe hailstorm that struck Canberra on 20 January 2020. Our buildings and other assets at Yarralumla were worst hit, suffering major damage to the roofs and staff vehicles. 
There was also extensive damage to many other buildings and vehicles throughout Canberra, with many vehicles being written off.
As a consequence of the damage to the roofs, caused by hail as large as golf balls for almost twelve minutes, we have experienced leakages from the rain which have damaged our walls, floorings, carpets, our heating and cooling system, electrical system which has impacted on our operations.
The damages to both buildings were reported to the Insurance Company who have responded positively to cover the costs of the repairs to the damaged roofs. Abereum, a roofing company, was engaged to carry out the repair works.
Abereum commenced work on 6th July and have progressed very well despite the COVID restrictions and the wet winter and if all goes well the job should be completed by September 2020.
The Haus Kamasan is an eye-catching and iconic building in Canberra with traditional artistic designs and paintings that depict the rich traditions and diverse cultures of our country. Many visitors to Canberra stop by the road to take pictures of the building.
The Project Manager, Mr Cameron Marsh, says that the repair work on the buildings will attempt to retain its original flavour and attractive image in the City.
Once the work on the two buildings are completed, it should give a facelift to the general outlook and image of the High Commission.